The December RASC meeting will take place on:
Wednesday December 17, 2014 8:00 pm
Room EN2040
(please note location change)
Engineering Building
Memorial University of Newfoundland

Speaker: Jim Lacey - CERN, The LHC, and the discovery of the Higgs boson
Jim is currently completing his PhD in high energy particle physics at Carlton University, and has worked with the team of scientists, at CERN, that discovered the Higgs boson particle.
Observation Reports
Observing Chair: The Sky Next Month
Christmas Social
---
Important Note: Parking is no longer permitted in Lot 5 (behind the building).
Lot 15B (next to the Music School) is available if the gate is up.
However, (for this meeting only) free parking has been arranged in
Lot 16/16A (adjacent and to the west of the University Centre)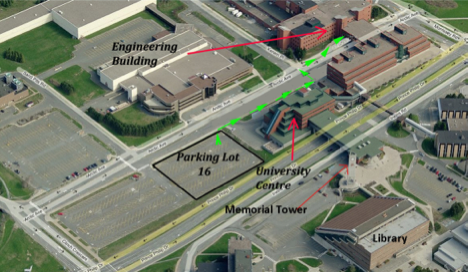 Please Note: Meetings normally take place on the 3rd Wednesday of each month, September to June.
---
Copyright © 1995 - 2021 RASC, St. John's Centre